Colleague Gerda de Bruin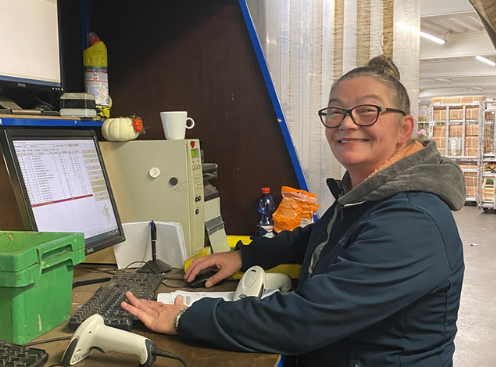 Controller incoming flowers
Our colleague Gerda de Bruin has been employed for so long that she has the so-called yellow-blue blood of Heemskerk Flowers. She has been employed for almost 25 years. In 1998 she started on the conveyor belt in the bouquet department. Since then, she ensures every day that all incoming flowers are distributed to the right departments. We would like to tell you about her 'road trip' through our company.
In 1998, Gerda started working at the bouquet department, where she stood at the conveyor belt splitting carnations, lilies and roses into smaller bunches. This was hard work, as she only earned if enough was done per hour.
In 2006, a job became available in distribution at the incoming products. Together with colleagues Richard van der Meij and Jan van Egmond, she made sure that all the flowers coming in from the auctions were checked and distributed. Gerda quickly felt at home in this department. It was noticed that she did her job well, because soon she was sent to our box in Aalsmeer as a supervisor to arrange the incoming flowers there.
After working in Aalsmeer for two years, she returned to our main premises in Rijnsburg. Here she became responsible for the so-called 'search'. This required someone with expertise. Completed orders had to be checked and problems had to be solved. With the knowledge Gerda had gained in distribution, this was no problem for her.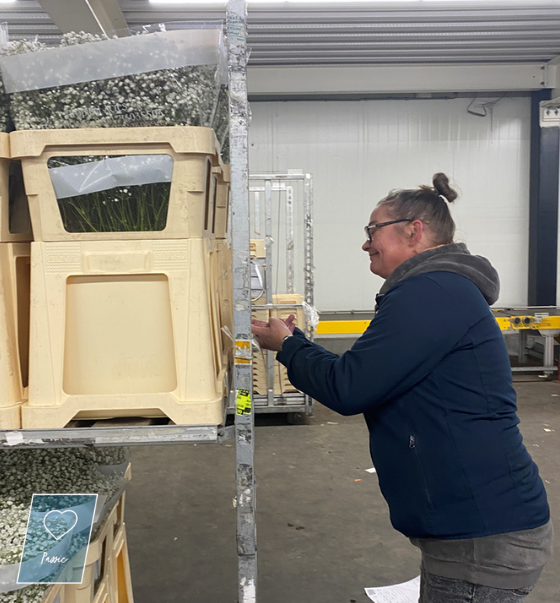 Eventually, Gerda ended up back at the distribution of incoming flowers, where her real passion lies. An enjoyable job, as it involves her dealing a lot with the buyers and all the line drivers.
Next year, Gerda will have been with Heemskerk Flowers for 25 years and we can certainly say that she has earned herself a fantastic position among all those men in dispatch.